It is possible to book a COVID-19 quick test with us. Herefore you can e-mail to info@stc-knrm.nl, or call 0800-3800 030. We will then look at an available date together. The costs for this quick test are €110,-. After about 15 minutes you will have the results.
The coronavirus (COVID-19) causes an uncertain period. Everyone is confronted with a situation in which we have to adapt and try to contribute in our own way to limit the negative consequences as much as possible. We have received a lot of questions in recent months whether our trainings will continue. Our training center is open and all trainings continue! Of course we take the measures seriously and keep the 1,5 meter distance in mind. Since December 1, our training center has a face mask obligation, this is a legal obligation from the government. Of course it is free to bring these yourself, we also have free face masks available on request. If you do not want to come to our training center, it is possible to move the training to a date to be determined.
In addition, there are also measures in place regarding the expiration dates of the certificates. NOGEPA, ILenT, GWO and OPITO have informed us of the following;
NOGEPA:

From May 1st 2021, the regular dispensation rules for expired NOGEPA certificates will
apply again. However, after May 1st there is 1 more corona-related exception, namely:
• Employees with a basic certificate;
• who, due to travel restrictions, cannot be in the Netherlands for a NOGEPA refresher training before their basic certificate expires;
• can receive dispensation for following the refresher training, up to a maximum of 3 months after the expiry date of the basic certificate
With this temporary exception, NOGEPA wants to accommodate employees who are not stationed in the Netherlands. This duration is the limit and therefore for example employees whose basic certificate expired 4 months ago will therefore have to follow the basic training, instead of the refresher training.
Please contact our training center for any assistance via info@stc-knrm.nl.
ILenT:
As a result, the Human Environment and Transport Inspectorate will grant a general extension to the validity of all Certificates of Competency and Certificates of Proficiency which are required by the Dutch Manning Act and accompanying legislation.
As of March 19th, 2020, the validity of Dutch Certificates of Competency and – Proficiency which will expire before or on September 30th, 2021, are granted an extended validity of 6 months (from date of expiry) but no longer than October 31st, 2021 whichever date comes first. The individual seafarer will not be required to submit an application for renewal pending the COVID-19 related restrictions.
The extended validity has been granted in order to provide sufficient time for the situation to get back to normal.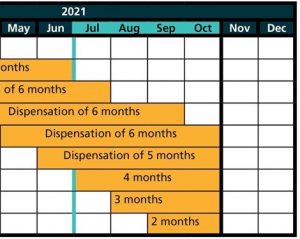 GWO:
The normal rules apply to the GWO training sessions and no dispensation is possible after October 1, 2021. View all the latest information on the GWO website here.
OPITO:
From now on there is a dispensation of 2 months for basic and refreshment certificates to participate with a refresher training. In those 2 months, the certificate is not valid and the participant can't use this certificate to perform work. However, he/she can still refresh and receive a certificate with a stamp back to the last expiry date.
If you will not be able to participate in your refresher course within the two month period of grace employers and individuals can apply for extension. If you have been impacted by COVID-19, and your certification expires within 14 days before the expiry date, please click the appropriate link below to complete a short form to submit your extension request. There are separate processes for employers (OPITO | Support for Employing Companies) and delegates (OPITO | Support for Delegates (Self-Sponsors)).
OPITO does work with two different kinds of dispensations:
The normal dispensation of 3 months: The expired certificate (for which dispensation has been requested and approved) CAN be used as a pre-requisite for another course. The certificate is still valid during the dispensation period.
The Covid dispensation (periode of grace) of 2 months: The certificate is not valid anymore, but the delegate is allowed to join a refresher course. The certificate CANNOT be used as a pre-requisite for another course. The period of grace is normally used for an extension of the normal dispensation period of 3 months.
Link to latest update: OPITO | COVID-19 Information and Response from OPITO
If there are any uncertainties or questions, we will be happy to help you by phone or email. We look forward to seeing you in good health in our training center!